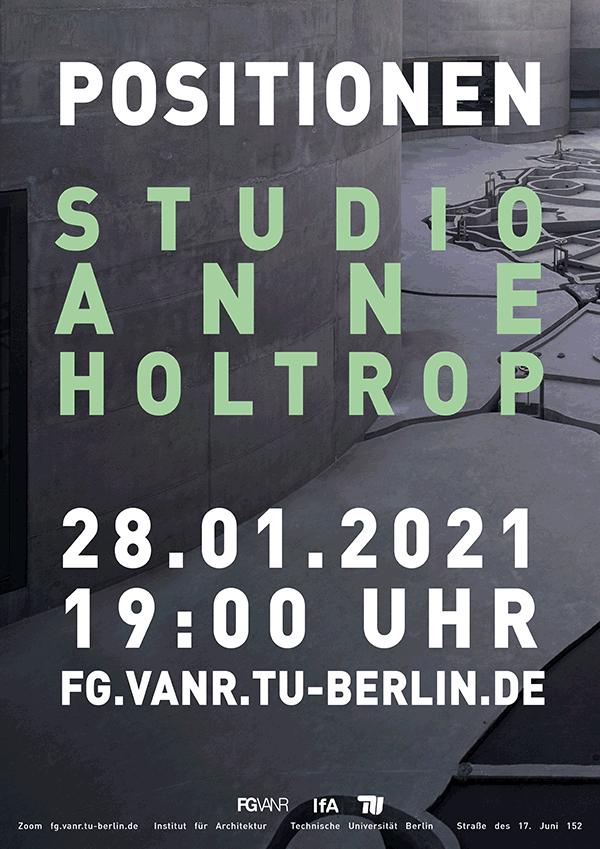 Liebe Kolleginnen und kollegen, liebe studierende,
Sehr geehrte Damen und herren.
Wir freuen uns, anne holtrop am 28. Januar um 19:00 Uhr als unseren ersten Gast der positionen Vortragsreihe im neuen Jahr begrüssen zu dürfen.
Good Timing as well, as this month a monograph of El Croquis appeared showing an Overview of the works of Studio Anne Holtrop.
Besides running offices in Amsterdam and Bahrain, Anne is as well an associate professor for architecture and Design at the ETH Zürich, combining practice with teaching and doing material research.
In 2009 Anne Holtrop started his own office in amsterdam and currently his offices are based in Amsterdam (NL) and muharraq (Bahrain). in 2015 his first two major buildings, the museum fort vechten ( netherlands ) and the national pavilion of the kingdom of bahrain ( milan and afterwards rebuild in muharraq), were completed. in 2016, anne holtrop co-curated and designed the bahrain pavilion at the venice architecture biennial: places of production, aluminium. The studio is currently working amongst other projects on new stores worldwide for maison margiela and the conservation and new additions of 11 unesco listed heritage buildings in muharraq of which the former king's house of shaikh isa bin ali al khalifa, the siyadi pearl museum, murad boutique hotel and the qaysariya suq.
Anne Holtrop was course director of the master studio for immediate spaces and the sandberg instituut amsterdam from 2012 to 2016, and editor of the architectural journal oase from 2005 to 2013. He was guest Professor at the accademia di architettura di mendrisio in switzerland from 2016 to 2018. Since 2019 he is associate professor at the eth Zürich.
For his practice, He has been awarded several Grants from the mondrian Fund. Among others he received the charlotte köhler prize for architecture by the prince bernhard Cultural Foundation in 2007 and in 2016 the Iakov Chernikhov International Prize 2014. In 2019 He received the aga khan award for revitalisation of muharraq ( Bahrain ).
We hope you are able to join the lecture, from your home, office, home-office, or wherever you might be.
Wir würden uns freuen, Sie am 28. Januar um 19:00 Uhr in Zoom begrüßen zu dürfen. Klicken Sie hier für den zoom link
Der Vortrag findet in englischer Sprache statt.