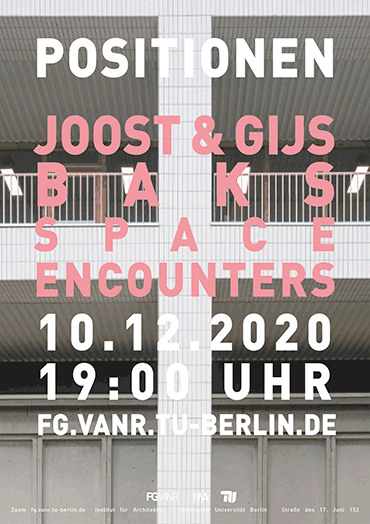 Liebe Kolleginnen und Kollegen, liebe Studierende,
sehr geehrte Damen und Herren.
Wir freuen uns, Gijs und Joost Baks von Space Encounters am 10. Dezember um 19:00 Uhr als unseren zweiten Gäste der POSITIONEN Vortragsreihe in diesem Wintersemester begrüßen zu dürfen.
Dear colleagues, dear students,
dear ladies and gentlemen.
we are excited to announce that gijs and joost baks from space encounters will be our next guests for our positionen lecture.
The brothers Gijs and Joost Baks are founding partners of the multidisciplinary practice Space Encounters, based in Amsterdam. With an international team of young architects, they work on a wide range of projects. This outernational and ambitious perspective is the base for their explorations. With their fun and energy they challenge the status quo of architecture. With their inspiring cultural and commercial clients, they contribute to the creation of environments and installations which give lasting positive engagement.
Their projects express a simultaneous equilibrium between apparent contradictions. Between strategy and form, specific and generic, surprising and familiar, banal and subdued, background and foreground, strictly and liberty. Their projects are open structures that fit possible context developments and a wide potential of future uses.
Space Encounters stands for the liberation from the dogmas of strict functionalities and researches old and new forms of space and material. They do not pretend that architecture provides solutions but they do acknowledge that good architecture is relevant. The constant search for innovation and different perspectives is expressed in both the practice of modern technology and the revaluation of old techniques and analogue methods.
Recent projects are the Platform Office building in Amersfoort,; the AR building in Arnhem; The Museum in Milano, Joolz Office in Amsterdam. Currently five housing projects are under construction in Amsterdam, Bergen and Utrecht.
Their works have been featured in international magazines, newspapers and on cultural leading websites. They have received numerous awards and nominations, including the RIBA International Architecture Award, FRAME Emerging Designer of the Year, Next Step Award and Milan Design Award.
We hope you are able to join us at the 10th of december at 07:00 pm for this special lecture from the Baks Brothers, from your home, office, home-office, or wherever you might be.  click here for the zoom link.
Wir würden uns freuen, Sie am 10. dezember um 19:00 Uhr in Zoom begrüßen zu dürfen. Klicken Sie hier für den zoom link
Der Vortrag findet in englischer Sprache statt.