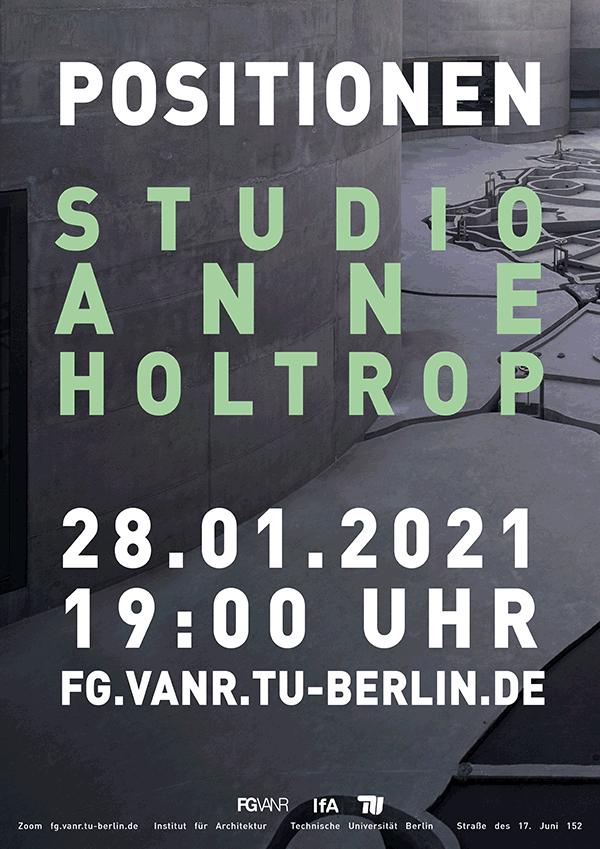 Liebe Kolleginnen und kollegen, liebe studierende,
Sehr geehrte Damen und herren.
Wir freuen uns, anne holtrop am 28. Januar um 19:00 Uhr als unseren ersten Gast der positionen Vortragsreihe im neuen Jahr begrüssen zu dürfen.
Good Timing as well, as this month a monograph of El Croquis appeared showing an Overview of the works of Studio Anne Holtrop.
Besides running offices in Amsterdam and Bahrain, Anne is as well an associate professor for architecture and Design at the ETH Zürich, combining practice with teaching and doing material research.
In 2009 Anne Holtrop started his own office in amsterdam and currently his offices are based in Amsterdam (NL) and muharraq (Bahrain). in 2015 his first two major buildings, the museum fort vechten ( netherlands ) and the national pavilion of the kingdom of bahrain ( milan and afterwards rebuild in muharraq), were completed. in 2016, anne holtrop co-curated and designed the bahrain pavilion at the venice architecture biennial: places of production, aluminium. The studio is currently working amongst other projects on new stores worldwide for maison margiela and the conservation and new additions of 11 unesco listed heritage buildings in muharraq of which the former king's house of shaikh isa bin ali al khalifa, the siyadi pearl museum, murad boutique hotel and the qaysariya suq.
Anne Holtrop was course director of the master studio for immediate spaces and the sandberg instituut amsterdam from 2012 to 2016, and editor of the architectural journal oase from 2005 to 2013. He was guest Professor at the accademia di architettura di mendrisio in switzerland from 2016 to 2018. Since 2019 he is associate professor at the eth Zürich.
For his practice, He has been awarded several Grants from the mondrian Fund. Among others he received the charlotte köhler prize for architecture by the prince bernhard Cultural Foundation in 2007 and in 2016 the Iakov Chernikhov International Prize 2014. In 2019 He received the aga khan award for revitalisation of muharraq ( Bahrain ).
We hope you are able to join the lecture, from your home, office, home-office, or wherever you might be.
Wir würden uns freuen, Sie am 28. Januar um 19:00 Uhr in Zoom begrüßen zu dürfen. Klicken Sie hier für den zoom link
Der Vortrag findet in englischer Sprache statt.
The Best Online Casinos in Australia
Whether you want to play pokies or table games, Australian online casinos have something for everyone. These casinos will change the way you play online. They have big names, unique features, and lots of money to win. You can also find promotional codes on the homepages of eligible casinos.
Some of the top Australian online casinos have unique features that will make you feel like you are playing in a real land-based casino. These casinos also have fast payouts, which is important if you are looking for a high return on your investment. You can also find a large selection of online slots. The top $5 minimum deposit australian casinos tend to share the same software providers.
RedDog Casino is an online casino with a rich history. It is popular among Australian players. It has a large collection of online slots, as well as table games and progressive jackpot pokies. It is also compatible with Android systems, and offers many different deposit and withdrawal options. Its maximum withdrawal amount is AU$2,500, and it supports many different payment methods. It also has a no-deposit option.
RedDog Casino is a great casino for players who like to play slots. It offers plenty of promotions, including free spins, cashback, and weekly cash back. You can also play in the live casino. Lastly, RedDog supports a large variety of deposit methods, including credit cards, bank wire, and more.
Another Australian online casino that is worth checking out is Boho Casino. It has a no deposit bonus, as well as a 350 free spins bonus. You can also earn a 10% cash back weekly. You can also play in the live casino, as well as the virtual sports betting section.
Jak wybrać najlepsze kasyna online w Polsce
Wybór dobrego kasyna online w Polsce jest ważny, aby gracze dobrze się bawili i jak najlepiej wykorzystali swoje doświadczenie. Przed podjęciem decyzji należy wziąć pod uwagę kilka kwestii. Niektóre z tych czynników obejmują wybór gier, metody płatności oraz opcje wpłat i wypłat. Należy również sprawdzić reputację kasyna.
Aby zacząć grać w kasynie online w Polsce, musisz otworzyć konto. Gdy to zrobisz, zostaniesz poproszony o podanie danych konta, takich jak adres i hasło. W kasie zostaniesz również poproszony o wybranie preferowanej waluty. Większość kasyn online w Polsce akceptuje polskie złote i euro, ale powinieneś wybrać preferowaną walutę.
Wiele kasyn online w Polsce oferuje bonus powitalny dla nowych graczy. Ten bonus ma zwykle postać procentu depozytu dopasowanego. Inne bonusy powitalne mogą mieć postać darmowych spinów lub pakietu darmowych spinów. Jeśli jesteś graczem high-roller, możesz otrzymać propozycję osobistego menedżera lub zniżkę dla menedżera.
Wiele kasyn online w Polsce oferuje również program lojalnościowy, który umożliwia zdobywanie punktów. Punkty te można wymienić na gotówkę lub darmowe pieniądze do gry. Możesz także otrzymać darmowe spiny i cotygodniowy zwrot gotówki ze swoich punktów. Najlepsze programy lojalnościowe są podzielone na poziomy, z których każdy ma swoje własne korzyści.
Do najwygodniejszych metod płatności należą e-portfele i przelew bankowy. Inne popularne opcje to kupony Paysafecard i Neosurf. Możesz również skorzystać ze strony swojego banku, aby dokonać wpłaty. Wybierając kasyno online w Polsce, wybierz witrynę, która używa preferowanej waluty, takiej jak EUR lub PLN.
Niektóre z najpopularniejszych gier kasynowych w Polsce to ruletka, bakarat i blackjack. Ponadto możesz grać w gry z krupierem na żywo. W gry z krupierem na żywo gra się z prawdziwymi krupierami, a także można cieszyć się transmisją strumieniową w wysokiej rozdzielczości.
Wiele z najlepszych kasyn online w Polsce oferuje również szeroką gamę automatów wideo. Te gry są łatwe do grania i oferują hojne wypłaty. Istnieją również automaty progresywne, które gwarantują jackpoty.
Niektóre z najlepszych kasyn online w Polsce istnieją od lat i zyskały reputację dzięki oferowaniu wspaniałych wrażeń hazardowych. Niektóre strony oferują nawet darmowe pieniądze do gry nowym graczom.
Najlepsze polskie kasyna online oferują również szeroki wybór gier stołowych. Do wyboru jest kilka wersji ruletki, bakarata i blackjacka. W wiele z tych gier można grać na stronie internetowej kasyna lub za pośrednictwem aplikacji mobilnej kasyna. Dobra witryna hazardowa oferuje szereg interesujących wariantów blackjacka, takich jak Perfect Pairs i Blackjack Surrender.
Kolejną zaletą gry w polskim kasynie online jest to, że możesz stawiać zakłady na różne gry sportowe i narodowe. Gracze mogą również stawiać zakłady na loterię państwową Duży Lotek. Ponadto najlepsze kasyna online w Polsce oferują zakłady sportowe na żywo, co umożliwia obstawianie wydarzeń sportowych na bieżąco.
Comment trouver les meilleurs casinos en ligne en France
Que vous soyez citoyen français ou non, vous pouvez profiter des énormes bonus de bienvenue offerts par les meilleurs casinos en ligne. Ces bonus sont le meilleur moyen de commencer à jouer aux jeux de casino en ligne et de gagner gros. Vous pouvez les recevoir sous plusieurs formes, y compris des tours gratuits et des crédits de casino gratuits. Vous pourrez également profiter des bonus de recharge, qui vous donnent un pourcentage de votre prochain dépôt.
Les jeux les plus populaires dans les casinos en ligne sont les machines à sous, qui offrent un grand potentiel de gain. Les machines à sous sont souvent divisées en trois catégories, y compris les machines à sous classiques, les machines à sous vidéo et les machines à sous à jackpot progressif. Vous trouverez également de nombreuses variantes différentes de chaque jeu. Que vous choisissiez de jouer aux machines à sous classiques ou aux machines à sous vidéo, vous serez sûr de profiter du gameplay intéressant et amusant. Vous pourrez également gagner gros avec les machines à sous à jackpot progressif.
La roulette est un autre jeu populaire auquel jouer dans les casinos en ligne. La roulette, également connue sous le nom de "petite roue", est la première version du jeu et a été initialement développée en France. Le jeu implique beaucoup de stratégie et de prise de décision.
Le poker est un autre jeu populaire en France. Bien que le jeu ne soit pas l'un des favoris du gouvernement, les joueurs continuent d'apprécier le jeu dans ce pays. Le poker est un jeu basé sur les compétences qui oblige le joueur à prendre des décisions. Le jeu est également un choix populaire dans les casinos en France.
De nombreux casinos en ligne en France permettent aux joueurs de déposer en euros. Les autres méthodes de paiement populaires incluent les portefeuilles électroniques, les cartes de débit et les virements bancaires. Les casinos en ligne en France offrent également un support client localisé. Ces agents du service client sont joignables sur plusieurs canaux différents, notamment par téléphone et par e-mail. Habituellement, un service client de premier ordre est offert 24 heures sur 24.
Certains casinos en ligne en France proposent des sites Web en français. Ces sites doivent être dotés d'agents de soutien francophones. De plus, vous devez confirmer si le casino est compatible avec les mobiles. Certains casinos les mieux notés proposent plus de 1 000 jeux. Vous pouvez également consulter les termes et conditions du site pour vous assurer que vous jouez dans un casino en ligne réputé.
Certains des meilleurs casinos en ligne de France offrent des tours gratuits aux nouveaux joueurs. Les tours gratuits sont souvent associés à d'autres extras, tels que des bonus ou des programmes de fidélité. Un bonus de dépôt est un type de promotion offert par les casinos en ligne lorsque vous jouez aux machines à sous.
Les meilleurs paysafecard casino en ligne de France proposent une large gamme de moyens de paiement. Vous pouvez utiliser des cartes de crédit, des portefeuilles électroniques, des virements bancaires directs et des bons pour déposer de l'argent. De nombreux casinos en ligne sont également compatibles avec les mobiles, ce qui permet aux joueurs d'accéder à leurs comptes depuis n'importe quel endroit. Vous pouvez également utiliser les crypto-casinos, qui vous permettent de jouer sans révéler votre identité. Ces casinos offrent des paiements rapides et l'anonymat.
Il existe plusieurs casinos en ligne en France qui acceptent à la fois les joueurs français et internationaux. Cependant, il est important de choisir le meilleur casino en ligne pour les joueurs français. Choisir un casino en ligne sans licence peut limiter vos droits, et vous devez être prudent avant de vous inscrire sur un site.