NEUE FUGGEREI: 

STUDENt´s exhibition at the rathaus AUGSBURG!
We are excited to see the work of our students from the design studio "neue Fuggerei" in Augsburg on display. On the occasion of the 500th anniversary of the Fuggerei social housing and the opening of the Celebration Pavilion NEXT500 by mvrdv, the works are shown in the Augsburg City Hall. 
Next week we will travel to Augsburg with our Bachelor students to see the exhibition, the pavilion and the Fuggerei on site. We also invite the former Master students of the studio "Neue Fuggerei" to join us.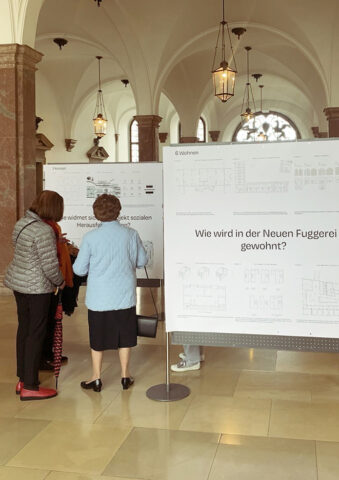 STUDENT ASSISTANT WANTED!
DAS FACHGEBIET ENTWERFEN UND GEBÄUDEKUNDE PROF. JACOB VAN RIJS

SUCHT EIN*E NEUE*N TUTOR*IN MIT LEHRAUFGABEN (50H/MONAT) ZUR UNTERSTÜTZUNG DES FACHGEBIETES.
STELLENBESCHREIBUNG: WENN DU INTERESSE AN DER ARBEIT IN DER LEHRE HAST, ÜBER HERVORRAGENDE KENNTNISSE IN DEN GÄNGIGEN ADOBE-PROGRAMMEN (ILLUSTRATOR, INDESIGN, PHOTOSHOP), OFFICE-PROGRAMMEN (WORD, EXCEL), SOWIE EINEM ZEICHENPROGRAMM (RHINO, AUTOCAD, VECTORWORKS, ARCHICAD) VERFÜGST, DANN BEWIRB DICH BEI UNS!
VORRAUSSETZUNGEN: BEGEISTERUNG FÜR DIE ARCHITEKTUR, INTERESSE AN DER MITGESTALTUNG DER LEHRE,

GUTE FÄHIGKEITEN IM ENTWERFEN UND RÄUMLICHEN DENKEN, TEAMFÄHIGKEIT UND SOZIALE KOMPETENZEN.
BEWERBUNGSUNTERLAGEN (MOTIVATIONSSCHREIBEN, CV, PORTFOLIO) BITTE BIS ZUM 20.05.2022 MIT

KENNZIFFER: T/3638/23-23

DIGITAL AN
A27@ARCHITEKTUR.TU-BERLIN.DE.
AUSSCHREIBUNG: HTTPS://TUBCLOUD.TU-BERLIN.DE/S/AYS7EDFZFEYS494?DIR=UNDEFINED&PATH=%2FFAK.%20VI&OPENFILE=3240944027
POSITIONEN: ROTOR
We're happy to announce our first guest ROTOR as part of the lecture series 'Positionen'.
Rotor is a multidisciplinary and cooperative design practice based in Brussels focusing on strategies for salvage, waste reduction and reuse models in the building sector. They keep on furthering the debate on material flows through applied research projects, publications, exhibitions, economic models and policy proposals. We hope you'll join us via Zoom!
Thursday, 12.05.2022, 19:00
zoom-link: tbA
Presentation: BACHELOR THESIS
THURSDAY, 24.02.2022, 15:00
YOU ARE CORDIALLY INVITED TO JOIN THE PRESENTATION OF THE BACHELOR THESIS "DAYDREAMS & NIGHTSHIFTS" BY NICK FRIES, JIM KÖNIG, TOM KOHRS.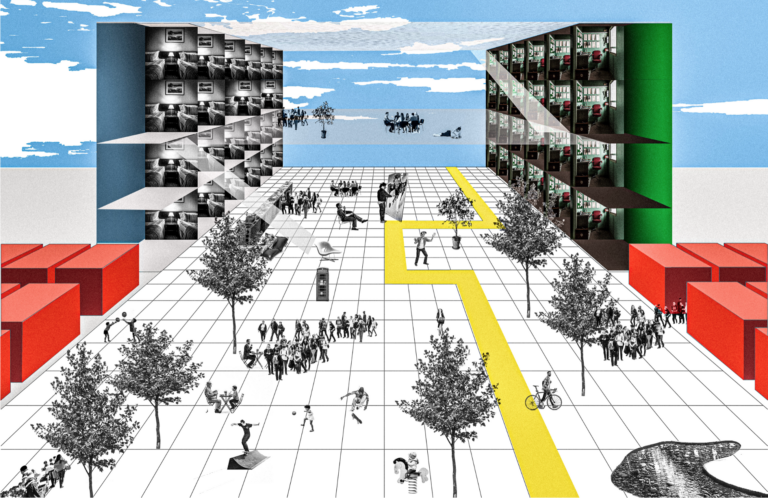 JAVIER ARPA FERNÁNDEZ IS AN ARCHITECTURE AND URBANISM TEACHER, RESEARCHER, AUTHOR AND CURATOR. HAVING COMPLETED A MASTER OF SCIENCE IN ARCHITECTURE AT THE DELFT UNIVERSITY OF TECHNOLOGY, JAVIER SPECIALISES IN THE DISSEMINATION OF ARCHITECTURAL AND URBANISM PRACTICE. JAVIER IS THE RESEARCH AND EDUCATION COORDINATOR OF THE WHY FACTORY, A GLOBAL THINK-TANK AND RESEARCH INSTITUTE AT DELFT UNIVERSITY OF TECHNOLOGY.
BAUSTELLENBESICHTIGUNG: Besucherzentrum flughafen tempelhof

Freitag, 10.12.2021, 11:.00
Auch gestern waren wir wieder auf einer baustelle mit dem seminar über fläche. der berlin partner von :mlzd pat tanner hat uns spannende einblicke in den umbau des gebäudes gegeben.
ARCHITEKT*INNEN: :mlzd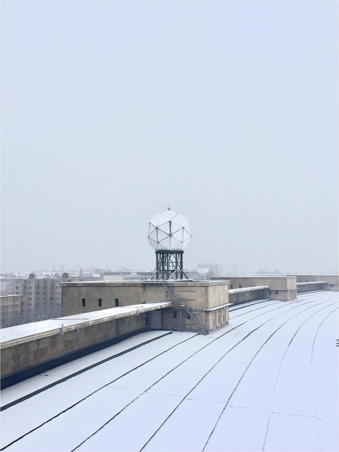 BAUSTELLENBESICHTIGUNG: Baugruppe kurfürstenstraße

MITTWOCH, 19.12.2021, 13.00
GESTERN haben WIR MIT DEM BACHELOR SEMINAR ÜBER FLÄCHE die baugruppe kurfürstenstraße besucht.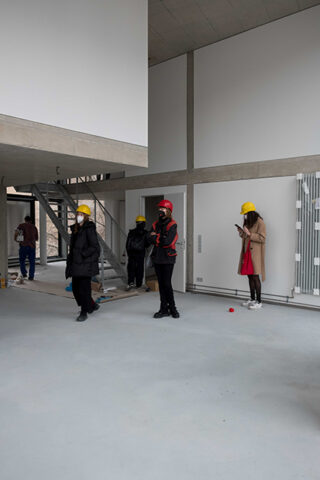 MUOTO is an architectural office based in Paris, founded by Gilles Delalex and Yves Moreau in 2003. Its activities cover the fields of architecture, urban planning, design and research. Muoto means form in Finnish. The office has been rewarded by several prizes, such as Holcim Awards 2014, Equerre d'Argent 2016, and Bauwelt-Preis 2017.
Baustellenbesichtigung: CRCLR-Haus, Berlin
Mittwoch, 17.10.2021, 13.00
Gestern waren wir mit dem Bachelor Seminar Über Fläche beim crclr haus berlin und haben eine Führung von TRNSFRM bekommen.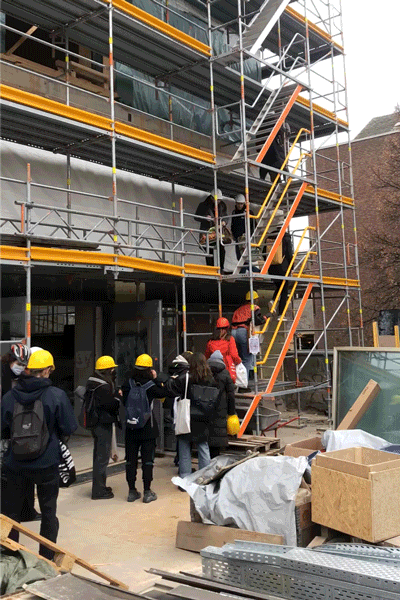 Last week we were on excursion in the Netherlands. Together with our Bachelor students, we gathered exciting impressions and amazing site analyses were created.
WIR GRATULIEREN UNSEREM STUDENTEN TOBIAS RINKE ZUM  2. PREIS IM WORKSHOP "
ACCESS THE FUTURE: Connecting Us to New Habitats"!